I first learned about WHEN DIMPLE MET RISHI when I saw Sandhya Menon on a panel at a recent conference. This is a beautiful book that many teens (and others) can relate to--especially in regard to finding one's own identity amid familial expectations.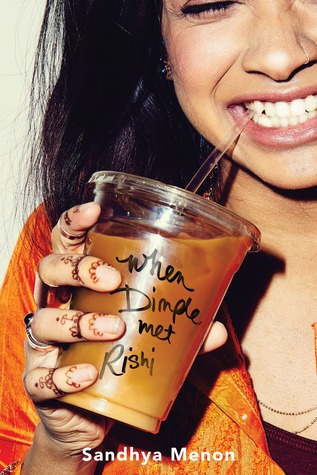 Dimple Shah has it all figured out. With graduation behind her, she's more than ready for a break from her family, from Mamma's inexplicable obsession with her finding the "Ideal Indian Husband." Ugh. Dimple knows they must respect her principles on some level, though. If they truly believed she needed a husband right now, they wouldn't have paid for her to attend a summer program for aspiring web developers…right?
Rishi Patel is a hopeless romantic. So when his parents tell him that his future wife will be attending the same summer program as him—wherein he'll have to woo her—he's totally on board. Because as silly as it sounds to most people in his life, Rishi wants to be arranged, believes in the power of tradition, stability, and being a part of something much bigger than himself.
The Shahs and Patels didn't mean to start turning the wheels on this "suggested arrangement" so early in their children's lives, but when they noticed them both gravitate toward the same summer program, they figured, Why not?
Dimple and Rishi may think they have each other figured out. But when opposites clash, love works hard to prove itself in the most unexpected ways.
According to your website bio, you now live in Colorado. What is your favorite thing about the mountains?
I'd have to say the sheer vastness of the Rocky Mountains! It absolutely humbles you. I also love that every time I drive somewhere or step outside, I feel like I'm on a movie set. :)
Wonderful! I love Dimple's voice. What about her experience do you hope resonates most with readers?
The feeling of being misunderstood by her parents, for one. I think that's such a universal experience that starts in adolescence, and for some, continues on into adulthood. It can be frustrating, isolating, and heartbreaking, and it helps so much to know that there are other people out there in the same boat as you.
Another thing I hope women especially can identify with is Dimple's struggle to find respect in a world completely dominated by men. She's a STEM girl, and she's constantly reminded that she doesn't belong and that she's occupying space that is generally reserved for men. I wanted to acknowledge that struggle and show a young woman triumphing there.
A much needed narrative for many! WHEN DIMPLE MET RISHI made the NYT Bestseller list--congratulations! Where were you when you heard the news?
Thank you so much! It all still feels a little surreal. :) I was driving home from the last leg of my book tour when I got the call. It was such a surprise that I actually had trouble understanding what my publishing team was trying to tell me, haha! They, of course, said they weren't surprised at all, but I was totally floored.
(I'm not surprised either.) Your next book, FROM TWINKLE, WITH LOVE, is told in epistolary format. What inspired you to write a narrative involving letters and correspondence?
I've always been a huge fan of epistolary format. Flowers for Algernon continues to be one of my favorite books! Writing one was sort of a bucket list thing that I had in my "ideas" folder forever, so I decided to jump in with both feet with From Twinkle, With Love. I'm so excited to see what people think!
Buy:
BookPassage
~
Amazon.com
~
Barnes & Noble
~
IndieBound
This post can also be viewed here.