I've been a fan of Jeff Zentner ever since
The Serpent King
came out, and I was delighted to meet him at YANovCon earlier this year. His newest book, GOODBYE DAYS, explores the different shapes of grief in a very unique way.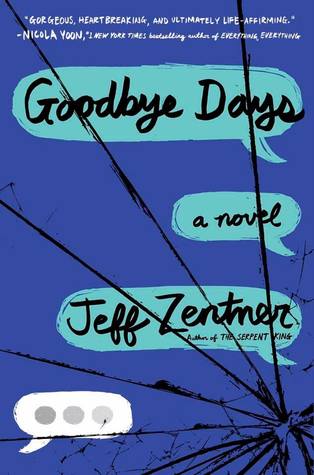 One day Carver Briggs had it all—three best friends, a supportive family, and a reputation as a talented writer at his high school, Nashville Academy for the Arts.
The next day he lost it all when he sent a simple text to his friend Mars, right before Mars, Eli, and Blake were killed in a car crash.
Now Carver can't stop blaming himself for the accident, and he's not the only one. Eli's twin sister is trying to freeze him out of school with her death-ray stare. And Mars's father, a powerful judge, is pressuring the district attorney to open a criminal investigation into Carver's actions.
Luckily, Carver has some unexpected allies: Eli's girlfriend, the only person to stand by him at school; Dr. Mendez, his new therapist; and Blake's grandmother, who asks Carver to spend a Goodbye Day with her to share their memories and say a proper goodbye to his friend.
Soon the other families are asking for a Goodbye Day with Carver, but he's unsure of their motives. Will they all be able to make peace with their losses, or will these Goodbye Days bring Carver one step closer to a complete breakdown or—even worse—prison?
Which one of your tattoos is your favorite, and why?
My tattoo with my son's name on it. As for why, it's because I really like him a lot.
Makes sense! GOODBYE DAYS does well in handling the many shapes grief can take. What do you think is most helpful for people dealing with the kind of loss Carver encounters in the book?
I think just letting yourself feel things and not trying to rush the grieving process. It looks different for everyone.
Indeed it does. Your novel, THE SERPENT KING, explores the consequences of self-destruction. What about this was the most compelling to explore?
I found it fascinating exploring the root causes of what makes people head down self-destructive paths. So often we're judgmental of self-destructive decisions without understanding or empathy for why people make them.
And having that empathy would make a difference for other people, as well as ourselves. What are some of your current projects?
My third book, RAYNE & DELILAH'S MIDNITE MATINEE, comes out next spring. It's about two girls who have their own creature feature on their local public access station, and whether the show they make together will be able to take each where they want to go in life.
Buy:
BookPassage
~
Amazon.com
~
Barnes & Noble
~
IndieBound
Buy:
BookPassage
~
Amazon.com
~
Barnes & Noble
~
IndieBound
This post can also be viewed here.